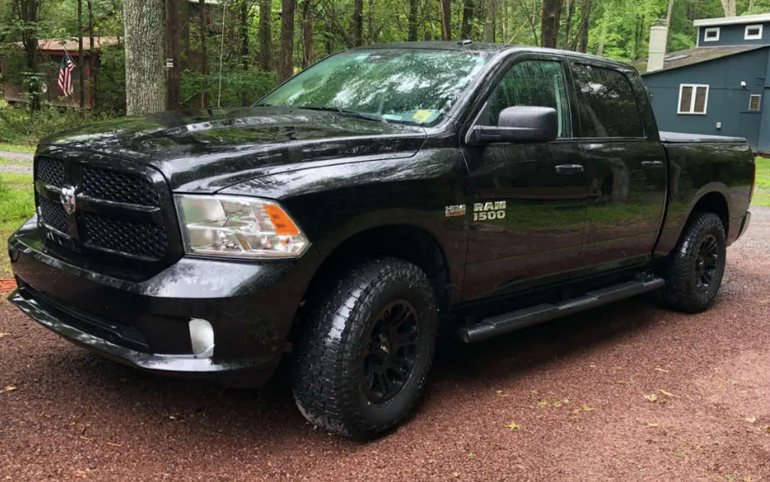 If you're having RAM air suspension problems, you're not alone. While the mighty RAM trucks can tackle just about any job on or off the road, air suspension problems are a common occurrence for the vehicles. 
In this article, we explore the most common RAM air suspension problems, their fixes, a few hacks, and the solution we offer. 
Common RAM Air Suspension Problems
The air suspension system in your RAM truck is complex, meaning problems can come from anywhere. But some air ride problems are more common in RAMs than others.
Noisy Air Compressor
The air compressor in your RAM is essentially the engine of the active suspension system. It generates the air used to inflate the system to the proper height. 
When your air compressor is functioning properly, you'll hardly hear it running — if at all. That means that if you do hear it running loudly, it means the compressor is working too hard. This means that there is a problem in the system somewhere.
Unable to Self-Reset After Repair
One of the main functions of your RAM air suspension is keeping your truck at the proper ride height. When working properly, the system will reset itself automatically. This brings the truck back to its preset ride height.
When there is a failure in the air springs or elsewhere in the system after a repair or replacement, your RAM may not self-reset as it is supposed to. This can happen for a variety of reasons, including:
Improper wiring
Bad seal on air strut
Tear or puncture in air spring
Software error in control module
Failure to Adjust Ride Height Automatically
Establishing your ride height is one thing your air suspension should do automatically. Keeping it there is another.
Active suspension systems are designed to maintain the ideal ride height while a vehicle is moving, too. Your RAM should adjust based on road conditions. If it doesn't, you've got a problem that is only going to get worse.
Slow Ride Height Adjustment
When your suspension adjusts to changes in the road surface, that adjustment should be very quick and easy. Almost instant, in fact. 
If it takes a while to adjust, something is not working. This is also true if it feels like it's straining or struggling to adjust.
System Malfunction in Cold Weather
A healthy air suspension will function well in almost any conditions. But when an active RAM suspension starts to age, cold weather can cause some of the moving or flexible parts to become frail and brittle.
When components such as the air springs become stiff or brittle, they stop functioning as well. You may notice that the system works slow, not well, or not at all in colder temperatures.
Air Leakage
Leaking air is one of the most common sources of air suspension problems. Both the air delivery lines and the air springs are made of soft, flexible materials. These can easily get punctured, torn, or otherwise damaged. 
Any leaks in the system will cause other components to try and make up the slack. This can mean that your air compressor overworks to produce enough air to keep the system inflated, for example.
Compressor Malfunction From Moisture
When its seals start to wear down over time, it's easy for moisture to get into your suspension compressor. The compressor has a dryer that helps keep moisture out, but over time, this can wear down too. 
Moisture inside your compressor can wreak havoc on the entire active suspension system. It can cause parts that are supposed to be dry to rust or otherwise corrode. Moisture can also cause seals and gaskets to stop working properly.
RAM Suspension Fixes
When your RAM air suspension breaks, you have a few ways to fix it. These range in cost and effectiveness. Let's take a look at the pros and cons of each method. 
Fix RAM Air Suspension at the Dealership
The RAM dealership is naturally the first place many will look when they need an air suspension repair. This is the "official" way to fix your air suspension, but it may not necessarily be the best.
Pros
OEM RAM components: The dealership will only use official RAM components to fix your air suspension. That means you can count on fit and function.
RAM-certified technicians: When you take your RAM to the dealership, it's a safe bet that the people working on them know the vehicles.  
Cons
Expense: Fixing your RAM air suspension at the dealership is by far the most expensive way to do it. According to data from RepairPal, it costs more than $1,300 on average just to replace your air compressor.
Hassle: Getting an appointment at any dealership these days can be a real challenge. Driving around on a faulty air suspension while you wait for an appointment can cause even more damage.
Fix RAM Air Suspension With Aftermarket Components
You can also go to your trusted local mechanic and use aftermarket parts to repair your air suspension. Many third-party manufacturers make excellent replacement components. This is a more affordable solution, but there are still some drawbacks.
Pros
Affordability: You can get quality aftermarket suspension parts at an affordable price compared to their OEM counterparts. 
Local shops: Going to a local repair shop where you can get honest advice from a certified technician can be a much better experience for many people than going to the dealership.
Cons
Labor costs: Even at your local mechanic, shop rates are still bound to be high. The labor cost of replacing or repairing air suspension components piece-by-piece will start to add up very quickly. 
Fit not guaranteed: Many aftermarket air suspension components are fantastic. But many others are not. Poorly-made or repurposed components may not have the exact fit you need for your system or be made to the same standards as OEM parts.
RAM Suspension Fix Hacks
Due to the high cost of fixing an air suspension, people have developed hacks to fix them. Here are a few of the most popular:
Splicing air lines: If you have a tear or puncture in one of your air lines, you may be able to splice it into another for a temporary fix. This can maintain the air seal in your system for a short time.
Patching air struts: You can use tire repair kits or other materials to patch an air strut. However, given how much the RAM asks of its suspension, this is only a very temporary solution.
Adding your own links: Crafty DIYers have reported being able to make their own suspension links to keep their RAM at the proper ride height. But there is no guarantee that this is a safe solution. It is also not likely to last.
While these hacks may work for some time, they are not a solution. Eventually, you'll need to find something that lasts.
RAM Air Suspension Fix: What We Offer
Your RAM isn't just a truck: it's a tool. You need to be able to depend on it. That's why We offer only the best RAM air suspension replacement components. When you buy from us, this is what you're getting:
Quality materials: We use only the best alloys and other materials in our replacement components to ensure robust performance and long-term durability.
Reliable manufacturing: We know that we are personally responsible for our products. That's why we keep a close eye on our manufacturing partners and insist on constant, thorough quality assurance.
Precision engineering: We don't settle for "close enough." Every component we sell has been thoroughly tested for a perfect fit and long-lasting performance.
Customer support: We do our best to ensure that you never need help with your suspension components. But if you do, rest assured that we are here when you need us.
When you're ready to fix your RAM air suspension problems, look to the best. If you need help making sure you've got the right part, use our live chat support feature to the bottom right-hand side of the screen.
Contact our Experts
Need help with suspension repair or maintenance?
Our suspension experts are here to help.